Hello all!
this is the very first tutorial I've ever made, Exciting!
I apologize for spelling and grammar errors in advance!
When i first found out the skipgoggles were on iphone i didn't really care, but when i found out they were charging for something i meant to give away freely it really pissed me off! (the goggles were meant to be given away free as an npc "BEER GOGGLES" on N-Pulse)
so I've decided to do what i originally intended, give them away for free! here's a tutorial on how i made the rainbow effect AND the original frames i used! I'd also like to thank Flamerus for the original idea and Mayia for supplying the original color schemes i used. and some random warcraft
unfortunately you'll need some type of gif animating program (i use the free EASYGIFANIMATOR) and Photoshop CS2
step 1: start off with a simple white square, here i used 32x32. now add in a bunch of random colors. I personally prefer pastel colors with a few darker colors mixed in. now give a nice heap of random colors all over the square until no white remains (avoid using white or black in the square as it comes off too contrasted later on)
step 2: filter>distort>twirl 387degrees, you can choose different more intense degrees of course
step 3: filter>stylize>find edges
step 4: edit>find edges>fade find edges (and i usually just scroll through the modes until i find something i like, in this case i settled on "difference"
step 5: filter>blue>gaussian blur> you're welcome to choose your own, i settled on 1.7 pixels.
step 6: repeat steps 1 through 5 except this time once you've blurred the image a bit go to
step 7: image>adjustments>brightness/contrast> i chose +15 brightness and +30 contrast.
now the second frame will be much flashier than the first! the reason did this is because the original skipgoggles were based on a pair of goggle projecters, therefor it appeared as if "scenes" were playing inside the goggles.
and that's it! now i know many of you more advanced graphic makers will find more powerful and much more simple techniques, but this is exactly what i did when i made the original so i thought that's the way i should show others!
now to add them to the goggles
step 1: take the goggle base image i've supplied, put the "colory lens" image below the goggles and just delete the rest :P
here's an image tut if that makes it easier.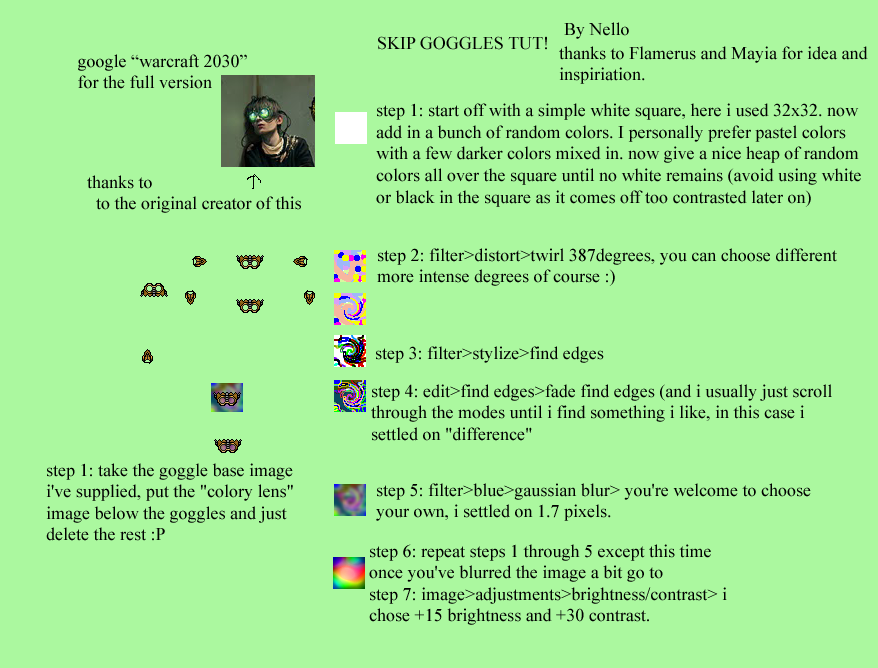 and here are the skip goggles individual frames.
skip goggles